Dogs are amazing creatures. They are lovable, sweet, and cute. They can be clingy at times and won't let you out of their sight, but that's only because they love you too much. However, underneath their cuddly, fluffy exterior, dogs are innately smart, brave, and protective. Here are six hero dogs whose stories are proof that dogs are man's best friend.
1 – Miley And Moxie
Two dachshunds, Miley, four years old, and Moxie, two years old, sacrificed their own lives to protect their family's one-year-old baby from a venomous cobra.
When a deadly cobra managed to slither through the house of the Selim family in Kidapawan City in the Philippines, Miley and Moxie wasted no time in defending their home. The two dogs went on full attack mode, taking turns in biting the assailant. Unfortunately, the cobra was also aggressive and managed to bite the two brave dogs. The tug-of-war between the two dogs and the cobra lasted 2 minutes. Our heroes were triumphant, as the snake died on the spot. However, the cobra's attacks also took a toll on both dogs. Miley died, while Moxie went blind. Their sacrifice is a story to tell for generations.
2 – Haus, The Rescued German Shepherd
Florida is no stranger to snake attacks. Fortunately for the DeLuca family, when a diamondback rattlesnake attacked their home, Haus was there. Haus is a rescued German shepherd dog, but at that time, he was the one that rescued the DeLuca's 7-year-old daughter Molly from danger.
Molly was playing in their backyard when a diamondback rattlesnake suddenly appeared. Haus immediately came to the rescue and jumped to and fro to defend little Molly. As a result, he was bitten three times, for which he had to be injected a total of 9 vials of antivenom. The diamondback rattlesnake is said to be the most venomous snake in North America, but Haus was stronger. After five days of fighting for his life at the animal hospital, Haus recovered.
3 – Starlet, The Yorkshire Terrier
The Yorkshire terrier is the smallest breed of terriers, but what they lack in size, they make up in courage. A two-year-old Yorkshire terrier named Starlet protected a young girl from two burglars. These burglars attempted to enter the girl's house in Atlanta, Georgia.
The young girl and Starlet were alerted by a smart doorbell that two men were trying to break into the house. The burglars succeeded in entering, but two-year-old Starlet stood her ground in protecting the house. The two burglars shot Starlet and ran after the little girl, who by then had escaped to the garage.
Bleeding, Starlet refused to back down. She ran after the burglars, tugging at their feet to prevent them from moving. Thanks to the persistence of the hero dog, the two burglars eventually gave up and fled. Small but terrible is how we can best describe Starlet.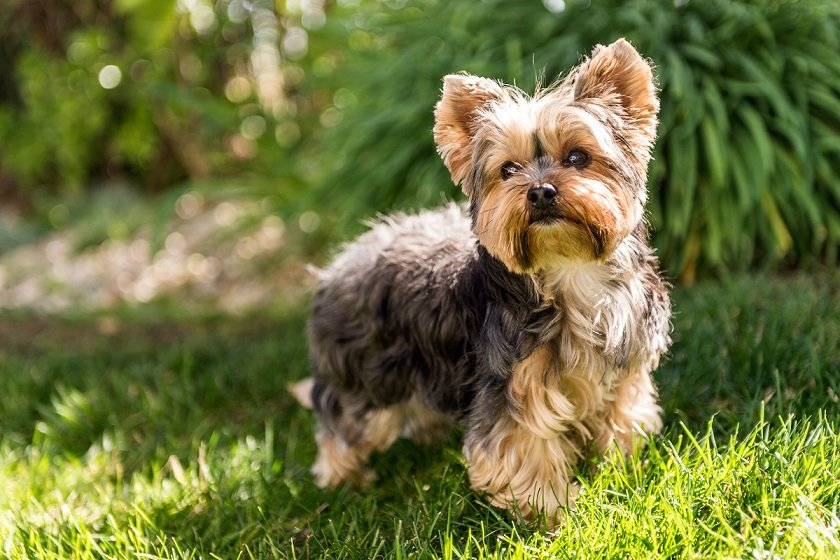 4 – George, The Jack Russell Terrier
Rarely, there are times when the dogs we love and look to for protection go out of control and become the source of danger. This is what happened in Taranaki, New Zealand in 2007. Five children were walking home after buying sweets at a nearby shop when two pit bulls went after them. One of the boys, a four-year-old, did not stand much chance in outrunning the pit bulls. Luckily, a brave fourteen-year-old Jack Russell terrier named George saw the incident. George did not think twice about throwing himself between the little boy and the two pit bulls. Despite his old age and heart condition, George barked and barked. He fought off the two pit bulls, causing him to have terrible injuries on his head and back.
His bravery enabled the kids to escape unscathed. However, due to his fatal wounds, George was put to sleep. The two pit bulls were also put down because of the danger they had caused. Later on, George was awarded a posthumous Purple Heart medal from the Society for the Prevention of Cruelty to Animals—a fitting award for a hero dog.
5 – Nero, The Newfoundland Mastiff
Newfoundland mastiffs look like big, cuddly teddy bears, and they are a combination of Newfoundlands and Mastiffs. When a fire broke out through the neighborhood of Yorktown Heights in New York, a Newfoundland mastiff named Nero was able to sense it early and warn his family about it. According to his owners, the Eliseo family, Nero suddenly burst into their room and barked and ran around to wake them up.
Thanks to Nero's alert senses and quick thinking, the Eliseo family was able to escape the fire. After all the commotion, however, Nero disappeared and was later on found near the area where the fire started. He was found lifeless underneath a concrete wall. The Eliseo family felt that they lost a son and decided to cremate Nero's remains.
6 – Figo, The Golden Retriever
Figo, a golden retriever, works as Audrey Stone's guide dog. Service dogs are their own kind of hero, but Figo exceeded expectations. The eight-year-old guide dog's heroism jumped out when a bus came toward him and his blind owner. According to Stone, Figo broke away from her arm and ran right into the bus in an attempt to stop it.
Stone fractured her elbow, ankle, and three ribs while Figo's right front leg was broken. Witnesses recounted that Figo refused to leave his owner's side until paramedics came. In the same way, his owner did not want him to leave her side as well.
Figo and Stone were apart for four months as they each recovered from their injuries. They have since been reunited, and Figo was awarded "Dog Of The Year" by the American Society for the Prevention of Cruelty to Animals.
Don't You Just Love Dogs?
Dogs are indeed the best friend humans could ever have. They may not be able to speak, but their actions (and sometimes their barks) definitely speak louder. After everything dogs of all breeds have done for humans, who would not want to have one—or five—by their side?