Cats are lovely animals that mix curiosity, individuality, laziness and a little of mischief to make up a perfect pet for millions of owners worldwide.
Although most cats stick to themselves and enjoy being alone for most of the day, that doesn't mean they don't require general activity and attention.
If you want to keep your cat happy and healthy, you must give them a solid dose of activity each day to stimulate their instincts and provide exercise.
Whether you're going to play with them actively or, if you're simply giving them a new toy so they can play on their own… you're going to need a couple of different toys to entertain your cat and help them avoid boredom.
Here at GeoZoo we have reviewed some of the best/coolest cat toys that you can buy today on Amazon! So, without further adieu!
Catnip Plushies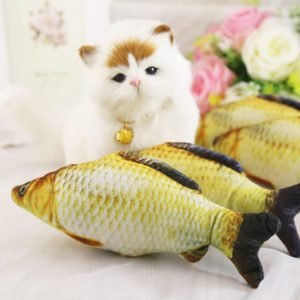 Often described as drugs for cats, catnip is an entirely harmless plant whose scent drives cats into an extremely happy and relaxed state!
Cat toy manufacturers have taken advantage of this scent and they've included it in plushies and other toys, making the perfect toy for most cats.
The toys come in a large variety, from plushy items like bananas (Catnip Toy, Yellow Banana) to little mice (SmartyKat Catnip Cat Toys)
Catnip toys are very cheap, and your cat will love them! They'll chase them around and go into a happy frenzy when playing with them.
Laser Pointers
Cats love chasing things, it's in their predatory nature to hunt for smaller animals, but for home cats, you might want to mimic this behavior by making them track the bright red dots that come from laser pointers.
You can buy a regular laser pointer from your local store (the ones people use for presentations) and your cat will love it. However, be careful not to shine the laser into anyones eyes (pet or human)!
There are also a large variety of cat toy laser pointers on Amazon that come with different features, like the Friends Forever Interactive Cat Laser Toy, which automatically points the laser around the house, rotating and moving the pointer to keep your cat entertained.
Laser pointers are great for cats! They encourage exercise and promote mental health for your pet. On top of all that, they can be pretty fun for us humans as well.
Wand Toys
Another toy that you and your cat can enjoy together is the wand or rod toy. These toys are excellent providers of exercise and entertainment!
They come in a large variety of shapes and colors, from colorful ribbons to feathers, or the type that comes with little plushy toys at the tip.
You'll have to experiment with your cat and see which type of wand they like the most.
Amongst the best on Amazon are the Cat Dancer Products Rainbow Cat Charmer and the EcoCity Cat Toys Feather Wands
Interactive Rollers & Treat Dispensers
Cats are curious creatures; they love exploring and discovering new things. To help stimulate this behavior in your cat you'll have to find toys that let them play alone and promote their intelligence and curiosity.
There's a large variety of toys that help with this particular need, most of them are mazes or towers with large balls stuck in them, the cat will try to get the balls out and will play with the maze for hours.
The best part, you can hide treats inside the toys, promoting their hunter behavior as they have to fight with the toy and think outside the box, sometimes literally, to find the hidden treat.
You can take a look at the simple models like the Petstages Tower of Tracks, which is a straightforward tower with balls that rotate and rattle inside the toy.
If your cat is the more inquisitive type, you might want to take a look at the mazes and digger sets, like the Catit Senses 2.0 Digger or the Cat Amazing Interactive Treat Maze & Puzzle Feeder.
Both of these provide an intricate little maze for your cats to get their paws inside and find hidden toys or treats. Their designs are also very comfortable and secure, so your cat won't get stuck or harm their paws while playing.
What's the Best Toy for a Cat?
That's impossible to tell! All cats have wildly different personalities, some prefer laser pointers, other plushies, and most of them like catnip, but with all toys, there's a chance your cat won't even take a look at it.
Run a little experiment and watch how your cat reacts to each toy you buy, once you find the kind of toy the love, you'll know what's the best toy for your cat.
Always make sure you're buying toys that won't break easily, or that could harm your cat. Follow online guides on what toys are safe and take a peek at your cat playing with the toy to see if there could be a potential problem.
With all these toys you'll have a great time with your cat, both of you will enjoy the new toy, be happy, and promote a healthy lifestyle for your beloved pet.
What do you think? Do you have any other cat toy that you would recommend? Disagree? Let us know in the comments.