It's no mystery…. dogs love chewing things.
And some dogs are worse than others….
Some dogs can chew the same toy for weeks, and some go right for the furniture, shoes, homework, or whatever else you deem valuable.
You might be worried if you have an aggressive chewer… but really, most dogs just love chewing and there are plenty of amazing toys on the market for for each level of chewer.
As a bonus, some chew toys can help keep your dogs gums and teeth clean and healthy!
If you're looking for toys that your dogs will love (and also safe!), take a look at the following products.
Kong Toys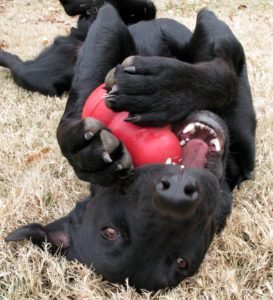 Kong's products are one of the most durable toys in the market and excellent for dog's gum health.
Kong has dozens of different models available for all breeds, sizes, and playstyles, so take your time and try a few.
One of the most popular Kong products is their Classic Kong Toy – this specific model allows you to hide treats (most commonly peanut butter) in the hard to reach lower part of the toy, keeping your dog interested for hours or even days.
Goughnuts – Dog Chew Ring
With incredible durability and a fun name, the GoughNut is an excellent choice for anxious and aggressive chewers.
GoughNuts guarantees that if your dog manages to break the outside layer of the ring, they'll replace your broken toy for free.
The GoughNuts is an excellent investment if you're tired of your dog chewing through rubber toys within minutes or hours. However, since it's only a rubber ring, your dog not be super excited to play with it, especially if compared to some of these other toys.
Nylabone Power Chew Toys
Proper dental care for your dog is tough that most owners often forget and neglect it.
Thankfully, there are plenty of awesome toys out there that will aid in cleaning and protecting your dog's gums.
The Nylabone line of products are all SUPER durable and designed to promote clean and healthy dental care. Plus they come in a wide range of different flavors and scents, some might make your dog go crazy!
The Nylabone Dog Chew Toy is an excellent option if you're looking for an affordable and durable toy for your aggressive chewer (while aiding in dental hygiene).
Outward Hounds Squeaker Mats
Almost all dogs love squeaker toys… They can't get enough of the high-pitched squeaks as hearing and reacting to these noises is built into their DNA.
However, most squeaky toys tend to break easily and lose the squeakers after a couple of days of intensive chewing.
If your dog likes soft toys that squeak while chewing, and you're looking for a high-quality toy that will last, then the Outward Hounds Squeaker Mat might be the best option for you.
They come in different models and sizes to accommodate to your dog's size, ranging from a small gator with six squeakers, to a huge gator that flaps around with 32 squeakers, perfect for large dogs.
Zogoflex Dog Toys Interactive Treat Dispenser
If you're looking for a fun new toy for curious dogs that can withstand the abuse of an aggressive chewer, then Zogoflex Interactive Treat Dispenser is an excellent choice.
This toy is durable enough to last through an intense chewing session, and you can hide small treats within the toy to make playtime more interesting. It's also tough has heck! Perfectly designed to last through multiple sessions with a large dog or aggressive chewer.
Always Keep an Eye Out When Playing With New Toys
Although most of the toys in this list, or any other toy you find online or in your local store, may seem "indestructible" and capable of withstanding an alligator bite…. you never really know what may happen.
There's a chance a new toy might break because of a manufacturer's defect, becoming a real hazard if your dog swallows a small piece.
Treat Your Chewer at Home With Durable Toys
If your dog is biting and chewing everything it finds around the house, the easiest thing you can do to save your furniture is to start experimenting with different toys.
Chewing is a natural action and pastime for all dogs, but you can control it by directing their attention to healthy and safe toys (like the ones on this list).
Keep your dog healthy and happy by regularly bringing home new toys for them to gnaw.
If you're concerned that your dogs chewing is excessive, and even THESE toys dont help… there might be another underlying issue and we recommend speaking to a vet.
What do you think about these toys? Do you have one that we missed? What's your dog's favorite chewing toy? Let us know in the comments.